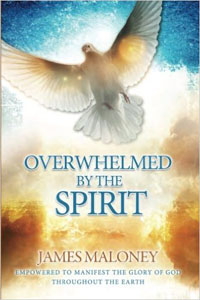 If believers want to accomplish the Great Commission and see nations brought to Christ, it is absolutely essential that they work with the Holy Spirit. His presence and power is non-negotiable!
God the Father is in Heaven. Jesus is seated at His right hand. The Holy Spirit is God on the Earth, purposed to fill and empower you to bring heaven's supernatural plans to pass in your life and in the lives of those around you.
In this book, James Maloney draws from years of theological training and powerful testimony, to help you:
Scripturally understand Who the Holy Spirit is and how He works
Discover your gifts and callings
Experience supernatural strength in areas of weakness
Walk in the miraculous and lead others to Christ
Order this book from:
View Cart - 0 Item(s)
or go to...
MP3s Audiobooks E-books The Dove Company The Bride of Christ Power Evangelism Divine Love Prophetic 201 Faith Dynamics Prophetic 101 Healing Covenant
Blessed are the pure in heart: for they shall see God. Matthew 5:8