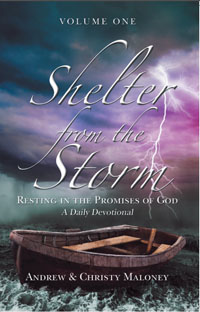 The storms of life threaten all of us at one time or another, leaving us feeling lost, alone and without any hope. We all face adversities in the name of relationships, mental and physical health, the pain of loss, work stress, finances and persecution. Our relationship with Jesus Christ does not always exclude us from all the unpleasant circumstances life sometimes throws our way. But the Bible makes it clear that when we turn our lives over to God and pursue Him wholeheartedly, He will never leave us nor forsake us (Deuteronomy 31:6), no matter what our temporary situation looks like in the natural. The truth is, we are never alone, and there is a Friend who sticks closer than a brother (Proverbs 18:24), granting to us out of His great mercy an inexhaustible supply of power and love to weather any life-storm we face. Through it all, He ensures we are more than conquerors. (Romans 8:37)
This first of two volumes in a year-long daily devotional highlights nearly a hundred of the most comforting and powerful verses on how God is our Shelter from the storm. Streamlined commentary unveils the truth of each passage and offers practical application to incorporate in one's daily life. This devotional outlines the source material for your unwavering faith in the Lord Jesus Christ and offers biblical proof that we will be carried through the storm and rise above!
*** Volume 2 will be released autumn 2021. ***
Order this book from:
View Cart - 0 Item(s)
or go to...
MP3s Audiobooks E-books The Dove Company The Bride of Christ Power Evangelism Divine Love Prophetic 201 Faith Dynamics Prophetic 101 Healing Covenant
But he was wounded for our transgressions, he was bruised for our iniquities: the chastisement of our peace was upon him; and with his stripes we are healed. Isaiah 53:5